Hall of Famers and Ambassadors
We are most grateful to you, our cherished Hall of Famers and Ambassadors. We recognize your contributions to our community and formally thank you for having been such loyal Robin Hooders.
Renato Abucham – Ambassador
I have great memories from my summers in the late eighties at Robin Hood. I have kept contact with many friends through FB and recently as I dropped off my kids at camp met other campers from my time who are also sending their children over. Robin Hood is definitely a unique place in terms of people you meet and friends you make from around the world.
I have to make a special comment about Rick Littlefield whom I have kept in contact throughout all these years and is now a lifetime friend of mine. I was quite a shy boy around ten or eleven and I still remember him motivating all the campers to make the most of the programs he offered. It definitely pushed me to excel in waterskiing. At the time we were lucky to have Jon Carder as the head of the waterskiing department. Definitely a great person and skier who built a solid program and knew how to motivate the campers. Personally I did reach a great level at camp and Jon and team pushed me to a competitive level.
In the next few years I won the Brazil Junior Nationals a few times, broke the national boys jumping record, skied the Latin American Championship twice, the Pan American and the Junior Worlds. Unfortunately as I went to college I did not have time to keep up with the competitive level, but, at 49 I still run the slalom course.
Besides the great times I spent in Robin Hood, the whole experience was extremely positive to push in life a shy 10 year old boy from the mid eighties.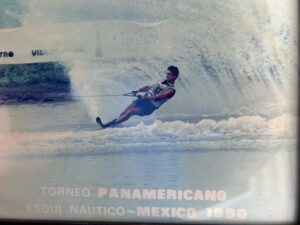 William Weil – Ambassador
                                                                                                                                                                         I was born in New York City in 1965. My older brother (Sandy) and I were introduced to Robin Hood when FB came to visit my parents in Mt. Kisco, NY. I think our first summer was 1973. My brother and I were both campers and counselors, although in my case, I think a total of 8 summers. Maybe 1973-1978 as a camper, then CIT, then junior counselor, then sailing director.
So many fond memories at camp… of sailing on the lake in the morning and ocean in the afternoon, my 6th sailing stripe ocean cruise in the Manchester 17 around Deer Isle, numerous camping and canoeing trips, catching a bass with Mr. Tulp and then not wanting to eat it when we got back to camp, getting promoted to officer on a cruise on the Niacel, ping-pong, horse shoes, candle boat making, the Show Song (which I still know by heart to my kids' chagrin). I also made great friendships at camp and in some cases remain lifelong, like Perry Robinson and Charlie Wray. And it was a pleasure to send my three kids to Robin Hood, who likewise loved being campers and counselors. Was fun for me when Phoebe became the sailing director a couple of summers back.
The bulk of my career has been in Children's Entertainment and Educational Technology, at companies such as Disney, Nickelodeon, National Geographic and an audiobook company my wife and I started (but has since closed down). My advice to a younger person is take jobs that develop skills early in your career (e.g., finance, coding, marketing, etc.) and then find an industry that blends a passion – like doing good things for kids – with those skills. As they say, you'll never work a day in your life.
A little fun fact about me is that I helped National Geographic win its first ever Academy Award for the film, March of the Penguins.
Antonio Pardo – Ambassador
I was born in Caracas, Venezuela in September 8, 1970. I attended camp as a camper, (1981 & 1982) counselor (1989) and parent (from 2007 till 2016). 
My experiences at camp are full of nice memories. To mention a few… I loved it when we went every Sunday to cook out by the ocean, the cruise trips, the song contest, I loved to eat Maine lobster and lobster rolls, and the feeling of receiving a package from your parents… those are all nice memories. 
My biggest achievement was to compete in the Olympics in Sochi. That was many years of effort, training, traveling, competing around the world to finally participate in the Olympics with all the best athletes in the world. To be part of it, that is something really amazing. 
My advice to younger people would be to never give up and fight for your dreams and for what you really like, don't get stuck in something you don't like, the goal must be happiness not money.
Scott Caputo – Hall of Famer
I was born in NYC on January 18th, 1982 but grew up in Greenwich, Connecticut. I attended Robin Hood Camp as a camper for three summers 1994-1996. I was a counselor and a director for I believe 5 summers from 1998-2002
My favorite memories of camp are of the true friends that you make for life from all over the world.  I still keep in touch with so many close friends from my camp days both in the US and internationally.  My Australian counselor in the outpost in 1996 is now my daughter's godfather.  I have vivid memories of basketball and baseball games against other camps, having fun on the waterski boats or laughing it up in the dining hall with the old maintenance director Kevin Grindle and a handful of friends.  
Interesting fact & advice:  I would advise all Robin Hood campers to try all activities that you haven't experienced.  I never hiked or canoed at Robin Hood.  I am much more of an outdoorsman these days.  I hiked Mt. Katahdin until last summer at age 40 and I am hoping to climb as many of the tallest mountains in each state as I can in my life.  I wish I had started sooner!  I would also tell campers and counselors that you are going to make friends for life with people at Robin Hood, so make a lot of them! 
For career advice I would tell campers that your first job after college more than likely will not be your last.  Some of the smartest people I know still are figuring out what they want to do.  So have the courage to seek what you want to do in your life, and don't get discouraged if you don't figure it out right away or what you thought you wanted turned out not to be different.  If you stay focused and driven, you will enjoy the journey.