Individual Sports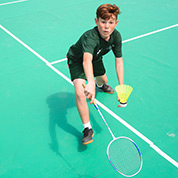 Tennis & Tennis Academy: [View Video] Among our best and most professionally run programs with the ability to train players from beginner to advanced competitive players.
• Four professional coaches & four assistant coaches
• Six plexi-pave hard courts
• Tennis Academy: Private, semi-private, and clinic lessons to all ages and abilities with coaching up to seven hours a day for Academy players
• Casual players & fast track competitive players both welcome
Golf & Golf Academy: [View Video] Professional Golf instruction for beginner to advanced players. We are an excellent golf destination for children looking to learn to play golf or to lower their handicap.
• PGA golf professional and two assistant pros
• Full driving range daily
• Course play at two country clubs four days a week (Note: Golf Green Fees $25-$40 depending on course… no charge for lessons on driving range).
• Golf Academy
Squash & Squash Academy: [View Video] Squash is a recent activity addition to our vast program of lifetime sports opportunities. We have two outdoor squash courts and will have two professional coaches to teach beginners to advanced players
• Academy players will have "fast track" access.
• Private lessons are available in addition to group clinic lessons
• Squash Academy
Equestrian Program: [View Video] We offer English Hunt Seat Equestrian for all ability levels.
• Walk, trot, canter and hunter/jumper training
• Trail riding along miles of off-road trails
• Riders may ride every day, multiple times a day if this is your desire
Circus: We are one of few camps to offer a Circus program. We teach Aerial Silks, Juggling/Diablo, Unicycle, Aerial Hoop (Lyra), Stilts, and more!
Muay Thai Kickboxing: [View Video] We offer world-class instruction in Muay Thai Kickboxing.
• Instruction by Former Pacific Rim Champion Nghia for more than 13 years, who has been voted most popular counselor every year for professionalism, caring, discipline, and passion for teaching
Rock Climbing & Ropes Course Program: We offer an unusually diverse group of rock climbing and ropes course opportunities.
• Multi-pitch climbing wall and zip-line in "down town" camp
• Rock face and high ropes course on our ocean side
• Off premises climbing and rappelling in Acadia National Park
Mountain Biking: Our Biking program is diverse, challenging, and dynamic with opportunities of:
• In-camp mountain-biking obstacle course
• Miles of local off-road trails riding
• Weekly excursions to Acadia National Park
• Biking camping trips to Acadia with excursion by ferry boat to an island
• Learn to ride a bike for the first time without feeling self-conscious
Fencing: Electronic foil, epee and sabre Fencing is offered to beginners and intermediate fencers taught by European instructors.
Archery: Target shooting taught by certified American Archery Association coaches.
• Nearly every camper finds their way to our Archery range
Skateboarding and Rip Stick: Skateboard on flat asphalt, our portable obstacle course, and our full half pipe. Also, try out our popular rip sticks.
• Full size half pipe, grinding rails, and mini-ramps to teach all levels
Survival Training: Learn to: build a lean-to, campfire without matches, camp and hike in the rain and gain skills in map and compass reading.
Fitness Training & Running: We offer a robust Fitness program and accommodate many different workout styles.
• Work with weights and exercise machines for strength training
• Take spinning and aerobics classes
• Work with a personal trainer and evolve a plan for speed, quickness, endurance and strength training
• If interested in running sprints, middle and long distances, train with running coaches for our 1k, 5k, and Around the Lake 8.2 miles road races